Sights of Istanbul. Нistorical places in Istanbul. Museums, promenade, restaurants
The best excursion to discover original Istanbul without using the trampled tourist routes is to get lost in the rich of history and dizzying views of this amazing city.
We can walk in a relaxed atmosphere and navigate our own routes and feel traditions of this city, located on both sides of the Bosphorus.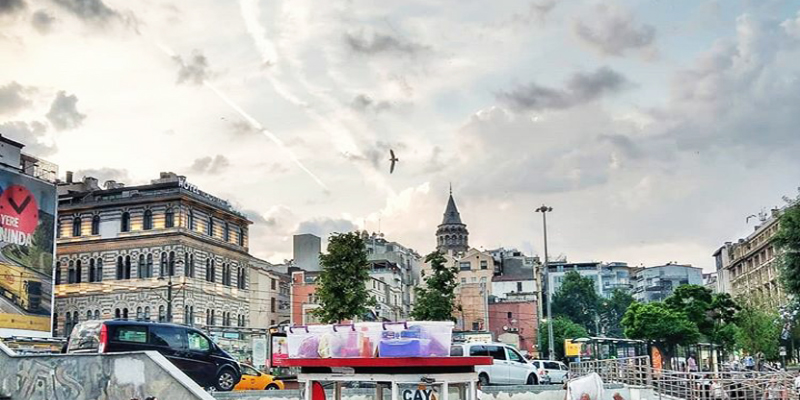 Include in your route favorite streets of locals - Pera, Karakoy, Cihangir and Kadikoy, Roofs of Valide Khan.
Balkon Restaurant & Bar
Restaurant address: Asmalı Mescit Mahallesi, Şehbender Sk. No: 5, 34430 Beyoğlu / İstanbul
Balkon Cafe Bar with an intoxicating view of the Bosphorus.
Vefa Bozacısı
Address: Katip Çelebi Cad. No: 104/1 | Vefa
Please note, you should definitely try a traditional Turkish wheat drink with semolina, toasted nuts - boza that is served in the cafe Vefa Bozacısı.
The recipe of this unusual drink has been passed down by generations for many years, the Boza is very useful, contains: vitamins B1-B2-B3-B6-B12 and lactic acid.
You can drink this life-giving drink at the cafe or take it in glass bottles.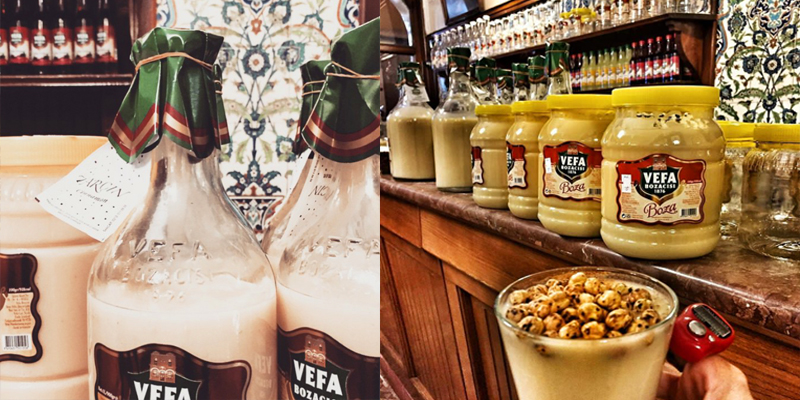 Also here is very cozy and atmospheric. You can order a refreshing lemonade, grape syrup - one of the traditional beverages of Turkish cuisine, tamarind sherbet of the fruit of a tree known in India and Egypt, Indian tortoise or Ottoman sherbet with tamarind, ginger, cinnamon, cloves and grape juice. And perhaps you will think to take with you a pomegranate sauce Vefa Narcissi (for giving a bright taste of food and delicate acidity), lemon sauce Vefa Lemon Sauce or balsamic vinegar Balzamik Sirke ...
Mangerie Cafe
Address: Cevdetpaşa Cad. No: 69 Bebek, 34342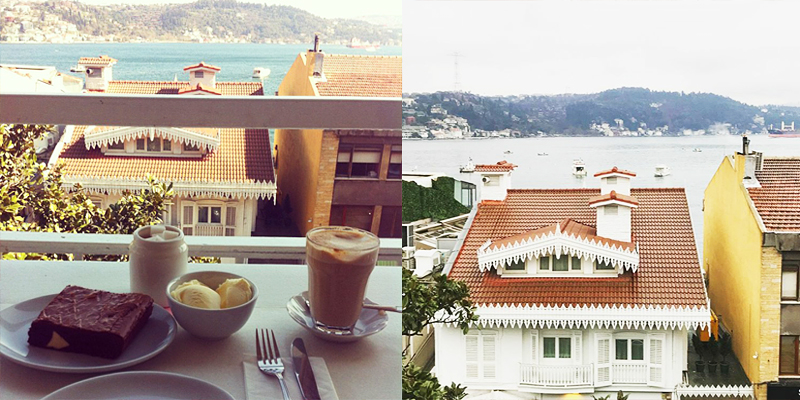 Picturesque views of the city's attractions open from terraces and rooftop cafes, such as the Mangerie Cafe, for example.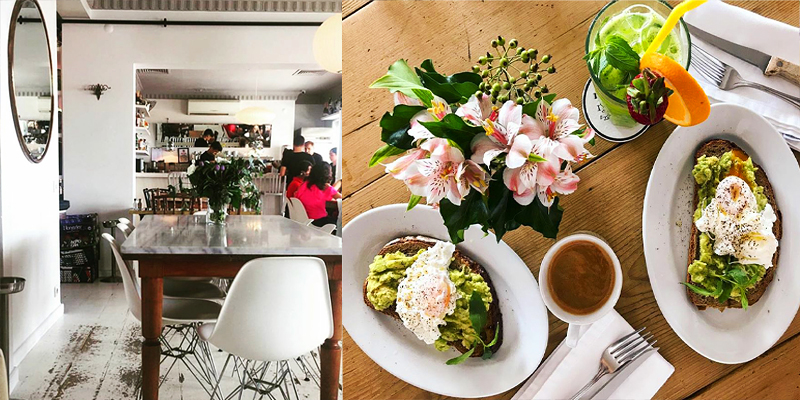 Here you will be treated with appetizing snacks from pickled salmon and perch, Seabass, fennel and red pepper pesto, Omar, cherry tomatoes, arugula - Lobster, cherry tomatoes, rocket; Eggs on toast from avocado - Poached Eggs on Avocado Toast, Prosciutto - Proscuitto, salads: Zucchini carpaccio with wheat sprouts - Zucchini Carpaccio with Wheat, Lamb and Homemade Noodle Salad - Lamb and Homemade Noodle Salad, Burrata mozzarella, Salad of traditional goat cheese Tulum with herbs - Tulum Cheese Salad, cherry crumble Vişneli Crumble and pomegranate martini - Pomegranate Martini.
Confectionery Hacı Bekir
Store Address: Hamidiye Cad. No: 33, Eminönü
Be sure you have to taste Turkish sweets in one of the oldest confectioneries Hacı Bekir - it has been working for more than 200 years.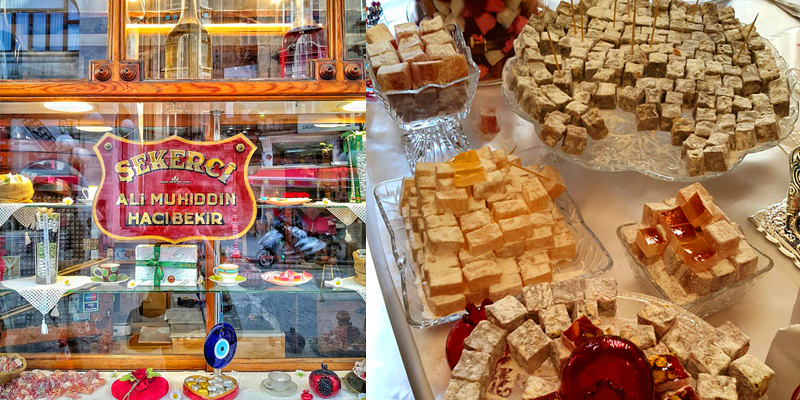 Here an unusually wide choice, you can say paradise of sweet tooth. It is difficult to taste just a piece, because here you will find traditional Turkish rahat-lukum, as well as stuffed with pistachios, chocolate, mastic, forest, walnuts, almonds, coffee, fruits, spices and mint; sherbet; lollipops; sweets from almond paste, grillage, chocolate covered with orange, marmalade and much more.
The best restaurants in Istanbul
Old Ottoman Cafe & Restaurant (Alemdar Mh., Cağaloğlu Hamamı Sk. No:17/J, 34110 Fatih/İstanbul) Seafood, Mediterranean, Turkish, Vegetarian, Halal;
Gulhane Sark Sofrasi (Alemdar Mh., Alayköşkü Cd No 22, 34110 Fatih / İstanbul) Seafood, Mediterranean, Barbecue, Turkish, Middle Eastern, International;
Erhan Restaurant (Binbirdirek Mh., Klodfarer Cd. Servet Han No:29 D:29/E, 34122 Fatih/İstanbul) Turkish, Vegetarian, Halal, Gluten-free;
Buhara Ocakbaşı Restaurant (Beyazıt Mh., Ç. Nuruosmaniye Cd. No: 7, 34120 Fatih / İstanbul) Seafood, Vegetarian, Halal, Gluten-free;
Saltanat barbecue house (Alemdar Mh., Çatalçeşme Sk. 19 / 1A, 34110 Fatih / İstanbul) Seafood, Barbecue, Turkish, Steakhouse, Mediterranean, Near East;
Roof Mezze 360 ​​(Hoca Paşa Mahallesi, Seres old City hotel 25/1, Hüdavendigar Cd., 34420 Fatih / İstanbul) Mediterranean, Turkish, Middle Eastern, Vegetarian cuisine;
Beso Restaurant bistro (Alemdar Mh., Çatalçeşme Sk. No:5, 34410 Fatih/İstanbul) Steakhouse, Barbecue, Italian, French, Pizza, Seafood, Mediterranean;
Old İstanbul cuisine (Alemdar Mh., Prof. Kazım İsmail Gürkan Cd., 34110 Fatih / İstanbul) Mediterranean, Barbecue, Turkish, Middle Eastern, Vegetarian Food;
Bitlisli (Hoca Paşa Mahallesi, Hoca Camii Sokak 2/B, 34110 Sirkeci Fatih/Fatih/İstanbul) Turkish, Grill, Middle Eastern, Barbecue, Vegetarian, Halal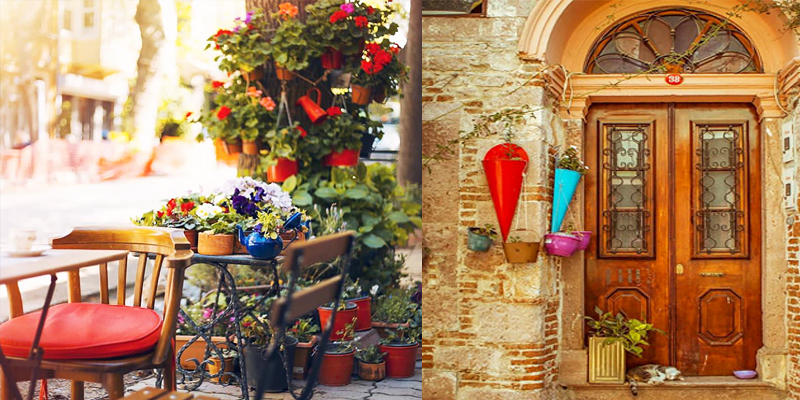 Walk along the Bosphorus in the Arnavutköy area. If you like rich and colorful houses in Victorian style and a view of the strait, then you are in the right place. The area between the first and second Bosporus bridges is quiet streets, where it is pleasant to walk contemplating the beauty around.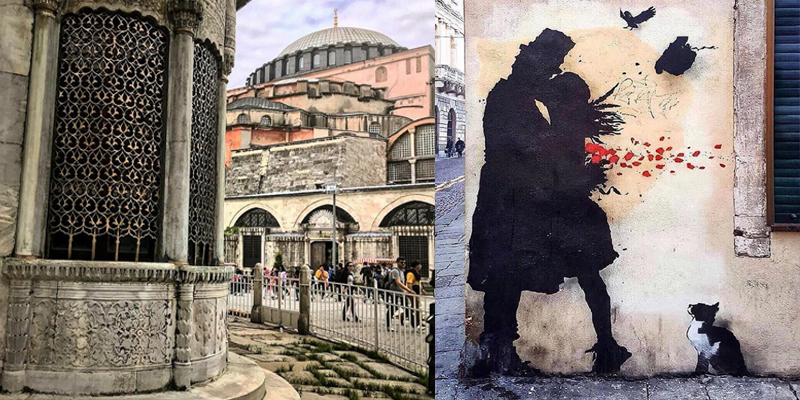 You can have a cup of tea on the beach in another historical picturesque port area, which was considered a financial center and was famous for its banks - Karaköy
In the Ortaköy area you can dream and take a stroll along the promenade, try a baked cupper - a traditional street snack (stuffed potatoes).
Walking her it's worth to try the fragrant Istanbul street food: popular roasted chestnuts, crispy sesame bagels, boiled corn, friable bulgur with tomato paste and spices, vegetarian shawarma, mackerel, smeared in a brazier and wrapped in lavash, fish kebab and rice with chicken.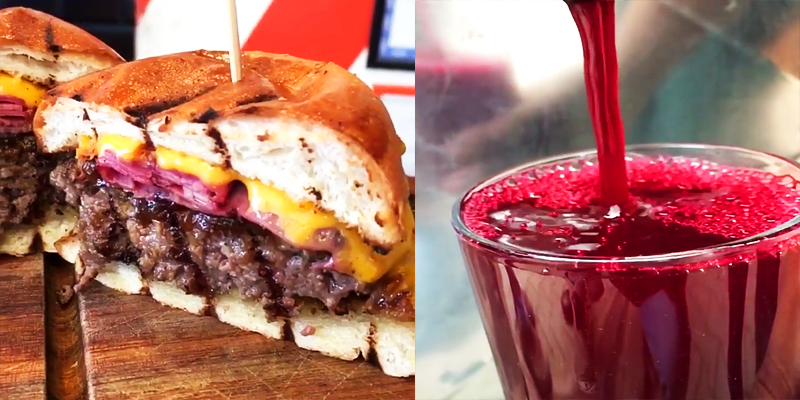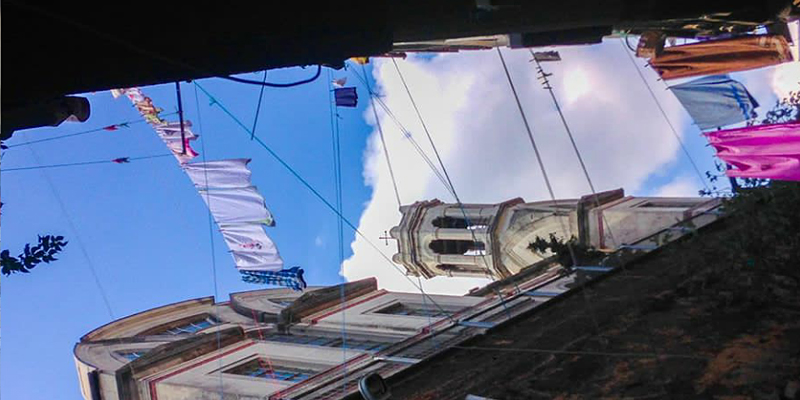 No doubt it's worth to visit UNESCO World Heritage sites - the historic Greek region of Fener and the Jewish Balat. After the fall of Constantinople in Fener there are many Greeks, now here you can find dilapidated and uninhabited buildings.
Türk Alman Kitabevi & Cafe
Türk Alman Kitabevi & Cafe - A coffee house in the bookstore. To drink a fragrant coffee and enjoy a good book? You are welcome! For you, the Turkish German bookstore that is located on the site of the Istiklal Caddesi Tunnel, today it is popular as a meeting place for youth and travelers that can communicate with each other.
The most beautiful parks in Istanbul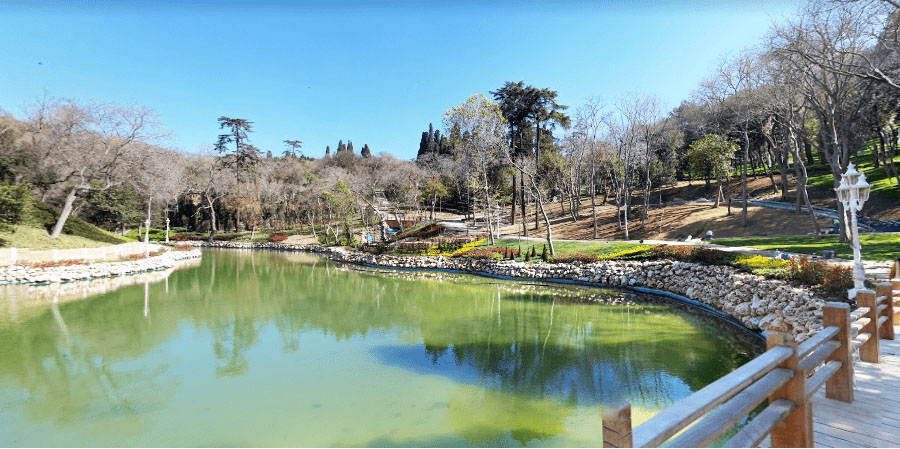 Yıldız Park is a spacious park with ponds, waterfalls, cozy picnic places and playgrounds.
Maçka Democracy Park is a public park with beautiful paths and paved walkways, ponds and stately trees.
Gülhane Park is a calm park with a fountain, flowers and a museum of science.
Emirgan Park - a vast park with a variety of clubs, 2 ponds, jogging paths, playgrounds for children.
The most beautiful views of Istanbul
Maiden or Leandrova Tower, fountain of Hekimoglu Ali Pasha, Galata Bridge
Embankments of Istanbul
The embankment of the Bosphorus Strait, the Bebek Quay, the Caddebostan Embankment, the Kadıköy ve Moda sahili, the park overlooking the Bosphorus Hidiv Kasri, the forest and the garden with a view of the lake Belgrad ormani, the Kennedy Caddesi, the Gulpinar Embankment
Museums in Istanbul
Istanbul is rich for museums on every taste. You can see the list of museums in the "Istanbul Museums"
We wish you pleasant walks and discoveries)
Author: Anna Mikhailovskaya - Travel blogger, introvert.
Anna has an international IATA certificate, a son, a daughter, 2 Scottish cats
and 10 years of travel experience.
Date Published: 2019-08-28
Date Modified: 2019-11-07