Ukrainian holidays and traditions: weddings and folklore, dances and costumes. Treats and Traditional food.


Traditional Ukrainian clothing. National costume
Ukrainian wedding
Ivana Kupala - Celebration in Ukraine
Ukrainian traditions – Vechornitsi
Ukrainian Christmas Songs – Kolyadki
Schedryi Vechir – evening
Schedrivki
Vasilev"s evening
How the Cossacks divided the rivers and lands in the New Year
Ukrainian Traditional Food
Ukrainian traditions is a perception, attitude of the Ukrainian people. Its will tell about relationships between man and woman, children, animals, nature, convey the spiritual value of each person, and the whole nation.
For centuries, Ukrainians have been collecting valuable assets, enriching, passing its carefully from one generation to another. Ukrainians have learned to understand nature, to draw strength, beauty and health from its bosom.
You will feel this colorful spirit of Ukrainian traditions and rituals, if you are the invited guest at a wedding in western Ukraine or take a part of the celebration of Ivana Kupala (in early July).
Easter, Trinity, Christmas, and many other holidays will enchant you with their colors, folklore, national dances and costumes, food and activities.
1. Ukrainian traditional clothing
2. Family traditions: Ukrainian wedding
Ukrainian weddings are full of customs, superstitions and interesting events that continue for several days from its you will learn a lot about the culture and traditions of Ukraine.
The youth now seeks to arrange their wedding in accordance with folk traditions, ancient customs and for good reason. Wedding ceremonies had an important role in creating a strong Ukrainian family, with love, respect, happiness and prosperity.
Ancestors left a rich heritage and young people tend not to lose it, but to pass it on to next generations.
Ukrainian wedding is a beautiful symbolic rite in the national culture, and traditions and customs are so diverse that the festivities can last a whole week.
Earlier, weddings were celebrated only in autumn, when the work in the fields ended, but in the summer no one got married: there was no time to celebrate – too much work on the garden and on the field.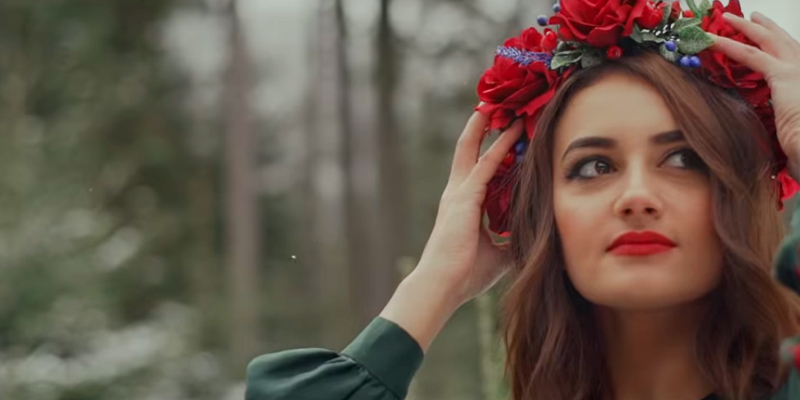 "Holy mother, Pokrovonko, cover my head, even with a rag, so not to stay unmarried," sounded in Slobozhanshchina. The voices of all Ukrainian girls who were brides, in an autumn merged into the choir, because from October 14 to November 14, were celebrated weddings everywhere.
At the wedding, ritual actions laid the foundation for the well-being of a new family and the health of future children.
It was a vow to the God and around the people, a that vow was accompanied by rites, songs, dances and wishes.
Depending on the region, the duration of the wedding festivities differed. For example, in the Poltava region they the celebrations continued a whole week ("from Wednesday to Wednesday, you can rest on the bench"), in the Hutsul region - five days.
The traditional wedding of the Ukrainians conditionally could be divided into three cycles: cycle number 1 - Pre-wedding, cycle number 2 - Wedding and cycle number 3 - Post-wedding, final.
The first cycle included those rites that are associated with the consent of the young and their families before marriage: matchmaking, a visit to the bride and engagement.
The postwedding cycle strengthened the bond between the families of the young and made future life easier for a young girl in a new home.
The groom brought rolls and drinks, invited friends and guests. And this last wedding ceremony was also accompanied by songs and dances.
Towel "Rushnik" for the wedding
The rushnik at the wedding was more important than just the decoration that adorns the walls and some persons. For each important guest, the bride embroidered own towel, so there were a lot of them.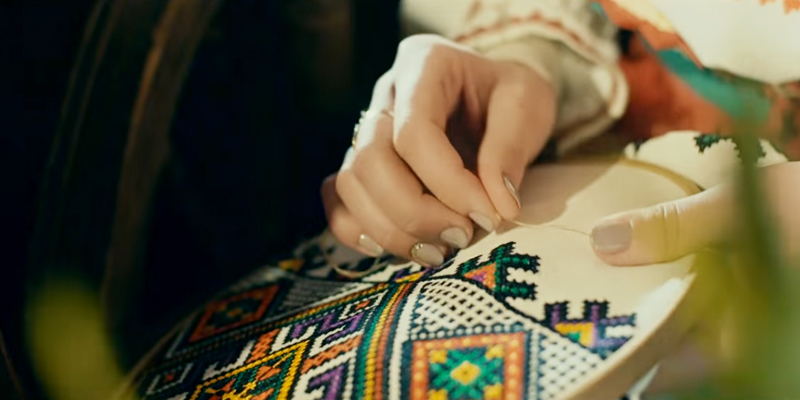 Even the poorest girl tried to make as many towels as possible.
The patterns for the towels were made up by the girls themselves, others did not copy them.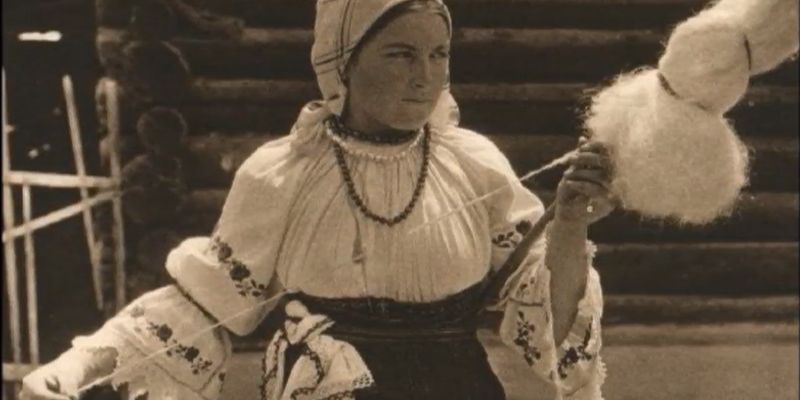 "Ой ластівка купалася, край бережка сушилася.
Край бережка сушилася, дівка Маруся журилася.
Ой ще рушників не подбала, а вже Іванка сподобала.
Ой ще рушників не зробила, а вже Іванка полюбила."
In general, the young had to sew about 20 towels. Such a quantity of towels must have even the poorest family, if possible girls were prepared much more.
Korovai - Wedding Bread
Making bread for the wedding was accompanied by special rituals and was one of the important parts of the wedding ceremony. The whole process — from kneading dough to baking bread — was accompanied by songs.
Ой Галина мати та по вулиці ходить, та сусідів своїх просить:
– Ой ви, сусідоньки, мої голубоньки, та ходіть же ви до мене та до мого дитяти, хорошенько коровай бгати.
Many rules related with the baking process: it was required for the first marriage, widows and widowers didn"t need to bake a bread.
Branch from a tree (Giltse) for the wedding
Just before the wedding, at the bachelorette party
girlfriends of the bride began to make an important wedding attribute that symbolized youth and beauty – a branch.
It's called a small young tree, or, more precisely, a large branch. More often, it had been a spruce or a pine tree (in winter), a cherry, an apple tree, a pear tree (in summer) were chosen for the wedding twig.
Each shoot of the branch was decorated with flowers, oats, viburnum, rowan, colored ribbons, sometimes it was put in bread or pie.
In other regions, mostly on the south, branch was coated with dough and baked in the oven, and then decorated.
Throughout the wedding, a branch that symbolized beauty stood on the table. After the wedding, that branch was broken, given to friends, thrown into the attic or on the roof of the house.In the same time bridesmaids with a wedding branch were made wedding wreaths.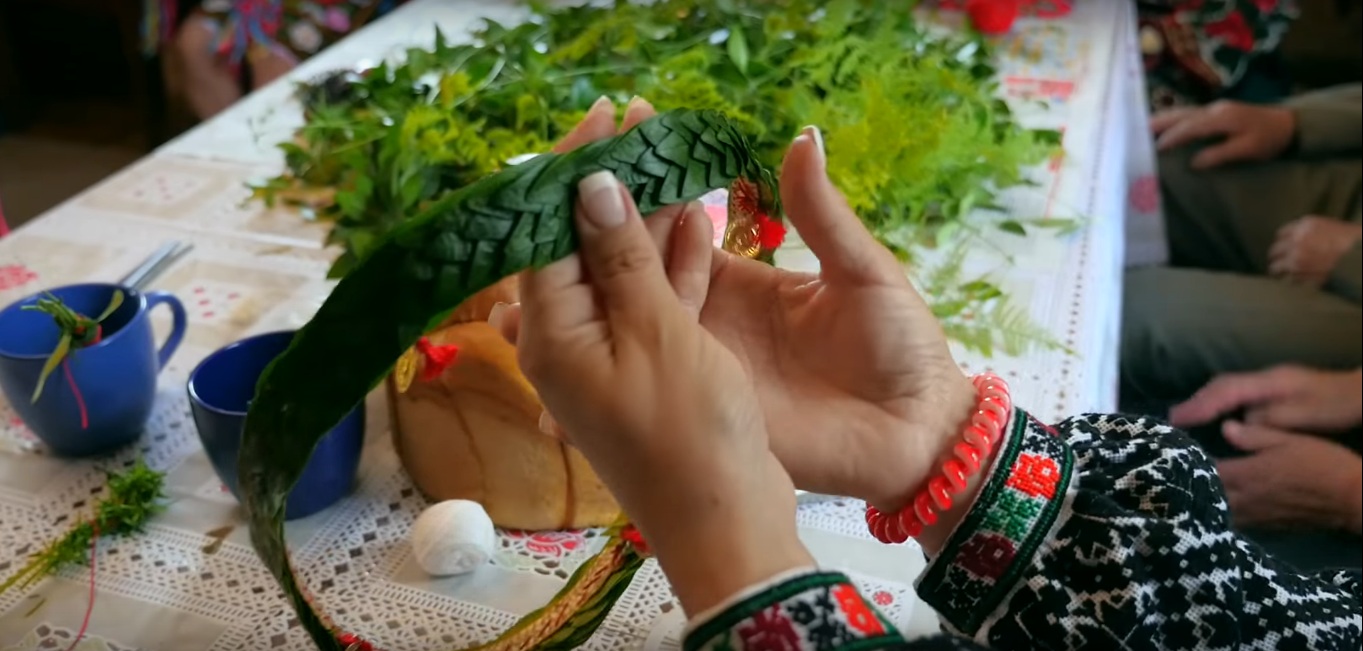 A long time ago, a wreath for the bride was made from wax, adding feathers, later from paraffin, fabric, paper. Until now, in certain areas of Western Ukraine, where the periwinkle rite is very common, women make wreaths for young periwinkle:
"Несем зілля-барвіночок на Оксанин віночок,
Та й на її головоньку на суботу до шлюбоньку."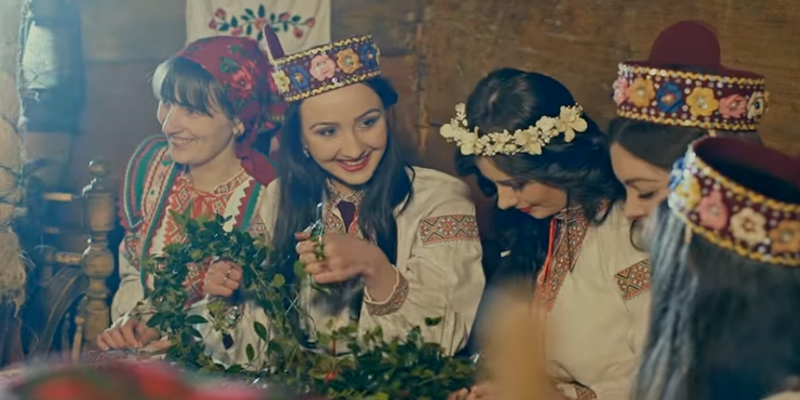 Ukrainian wedding songs
There are more than 1500 Ukrainian wedding songs. It can be divided into several thematic groups:
Songs that explain the actions of the wedding drama

(the regret of parents about separation
from their daughter, the sadness of the bride because of the separation with relatives, home, girlhood)
Поспішила моя мати з
аручини пити,
Ось побачиш, моя мати,
Як без мене жити.
Songs that are asking the God and the saints to give the young family a good fate:
Многая літа, Многая літа, Многая літа, многая. Сотвори, Господи, Многая, многая літа.
Glorification songs that glorify the young family and their relatives:
Темного лугу калина, Чесного роду дитина, З чесного двору вийшла,
Та в чесний й увійшла. Нічого дивувати – Така в неї була й мати.
3. Ivana Kupala. History of the holiday. How to celebrate
For a long time, in early July, at the night from the sixth to the seventh July, Ukrainians taken to celebrate Ivana Kupala festivities. Ancestors of Ukrainians believed that in this magical night comes dark forest evil and therefore need to keep eye on it. Each part of Ukraine has its differences, subtleties, fortune telling, prejudices associated with the celebration of Ivanа Kupala.
Find out what you can"t do at night on Ivana Kupala
First of all - you can not fall asleep. On this night on Ivana Kupala, according to the beliefs of the ancestors, become alive all the dark forces, water werewolves, mermaids and witches.
Secondly, in no case can you swim in rivers, lakes and other bodies of water, because a mermaid or a water merchant can to pull down a person into the water. And in the third, you can not sell, give or borrow anything - it is to poverty.
Traditions of Ukrainians on Ivana Kupala
On this night, everyone was looking for the desired color of the fern.Only on this special night on a fern bush bloomed - a fiery flower of happiness.
There were beliefs that the one who found and picked this wonderful flower would easily get all the knowledge, all the wealth, get protection from the dark forces, be able to attract any girl or boy, always get the best harvest and have the magic power to do anything with that hand which picked the flower of the fern.
And the beautiful girls on Ivan Kupala made wreaths and let it float on the water. It was necessary to find twelve different types of herbs and plants, weave a wreath with and put it on the water. If the wreath was drowned, it meant that the girl would not marry this year; and if the wreath sailed away from the shore, the bridegroom is very close.
With the sunset, unmarried young people made a big bonfire and a couple, holding hands, jumping over the flames. There were beliefs, that the guy and the girl will be together if they jumped over the fire without unclasping their hands. And that person, who will jump over the fire above all will be the happiest.
You will experience the full flavor of Ukrainian traditions and customs if you witness a wedding in western Ukraine, make a trip on the holiday of Ivan Kupala (early July), during Easter, Pentecost, Christmas, St. Nicholas Day and many other holidays.
All these occasions will enchant you with their splendid colors, folklore, traditional dances and costumes, treats, food and everything else that happens on these special days.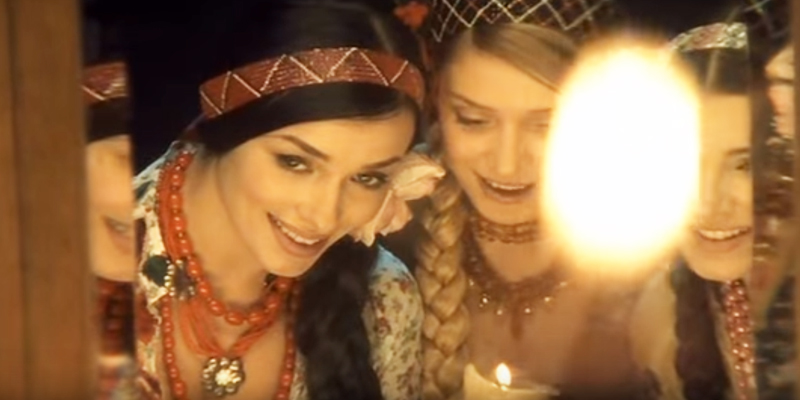 Ukrainian weddings are full of customs, superstitions and other interesting activities that continue for several few days and, from this, you will learn a lot about Ukraine culture and traditions.
Traditional Ukrainian Dishes
Ukrainian land is fertile and offer generous harvests and hardworking people of the land are happy to use the gifts of nature to prepare a variety of delicious dishes!
Ukrainians have traditionally been hard working farmers and gardeners, growing different crops such as corn, sunflowers, flax, etc. Ukrainian cuisine is very satisfying and has many ingredients to add magnificent flavors into the dishes. The food is very nutritious as the land workers need energy for their hard physical work.
Vegetables are most served on a plate and mixed allowing you to choose what you want. Potatoes make up much of the vegetable servings and became almost a second bread, giving rise to variations such as delicious vegetable pancakes, home-style potatoes, mashed potatoes, stewed, fried or baked in a casserole. Potatoes are also an essential ingredient of almost all soups, borsch, kapustnyak, kuleshov, rozsolnik and solyanka.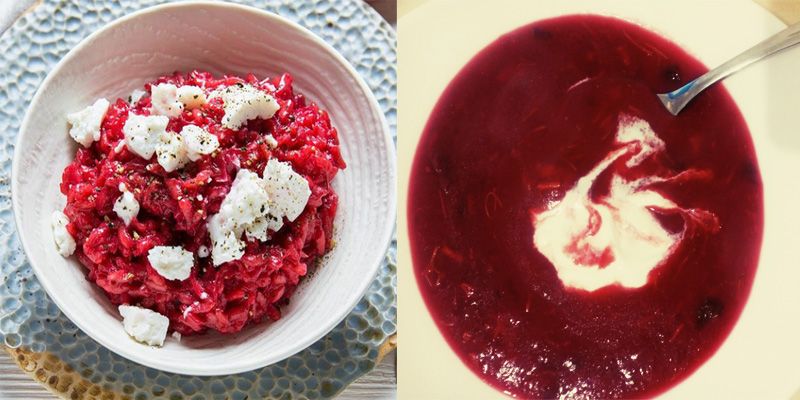 The most famous Ukrainian dish is red borscht! Traditionally every woman has her own special secret for cooking borscht, but the main components must be the same - beetroot, potatoes, cabbage and many other vegetables of your choice, with or without meat. Served with sour cream and donuts, garlic, onion and bacon (pig fat).
Borscht is a symbol of family components, smoldering in the casseroles in the oven, it allows the taste to permeate, creating an unique flavor!
There are many styles of delicious stuffed cabbage, dumplings, zavyvantsi stuffed with meat, rolls, homemade sausages, stuffed fish, dishes with eggs, cheese cakes, nalisniki and other goodies from a combination of meat and vegetables and most have a lot in common with dishes of Belarusian cuisine and Western Slavs. The style of cooking is quite sophisticated as almost all dishes are prepared in several stages, including boiling and then stewed or baked, fried and then the dish succumbs to the final preparations, which is mostly stewing, boiling and baking rather than frying and also salting rather than smoking.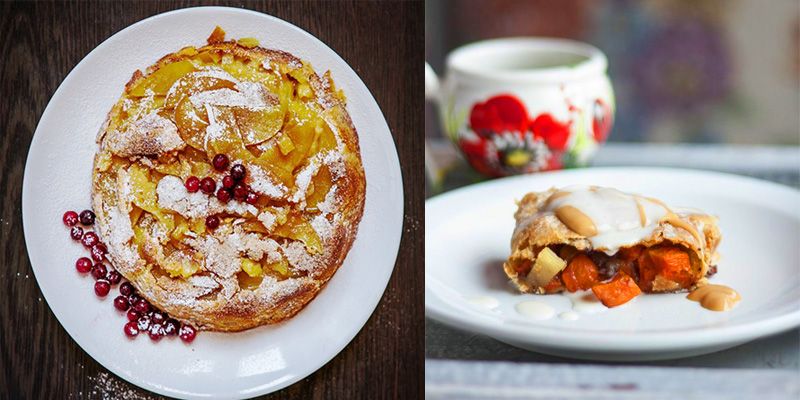 The dishes are complimented with a range of different pies and baked goods, homemade bread and pancakes.
Meat is mostly pork and pig fat (bacon), beef and chicken. Widely used in Ukraine cuisine are the river fish, including carp, catfish and pike (baked and stuffed under sauce).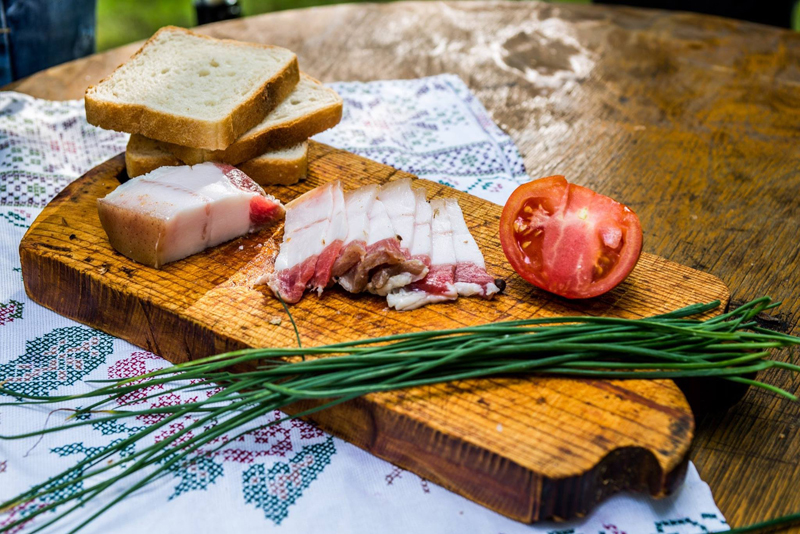 Ukrainians enjoy pig fat - salo! It is eaten raw, baked, boiled, seasoned with first courses and included in stuffed rolls and other dishes. It is a symbol of wealth and good life.Very tasty and traditional is the "roast at home" which is meat with potatoes baked in casseroles. It is served with Ukrainian benderchiki, pudding, crispy cracklings, potato pancakes, onions, cabbage or other vegetables ... Yum!
The most famous porridge is millet, pumpkin and buckwheat. In Transcarpathia region is the very tasty Banosh or Mamalyga, which is prepared with wheat, corn and other cereals, and served with sour cream, butter, cheese, fried onions or meat... cook to your taste!
Drinks include the very popular kvas, compote, uzvar, dairy-ryazhanka and Kislyak. Alcohol is usually home made vodka with different nastoykami, including honey, hrenovuha, kalganivka, pepper, different brandies and homemade wine
Honey and bee products are becoming increasingly popular.
Modern restaurants, cafes and kavyarni (coffee places) delight you with traditional Ukraine dishes as well as dishes of different countries and they will prepare dishes to your taste preferences. In the capital city of Kiev, the average check for the dinner will be 400-600UAH ($14-20 or more) per person, while coffee and tea ranges from 40-70 UAH ($1.50 - $2,5) in a cafe in the city center. Prices may vary from inexpensive cafes to chic restaurants.In small towns and in western Ukraine prices are much lower than in the center, south and east of the country.
We wish you a very tasty and exciting journey to Ukraine!
Author: Anna Mikhailovskaya - Travel blogger, introvert.
Anna has an international IATA certificate, 2 Scottish cats
and 10 years of travel experience.
Date Published: 2019-08-28
Date Modified: 2019-11-09